2022 GIM IS HERE! Greatness In Me is back, better and grand this year!!
GIM is an annual one-day leadership school which teaches children leadership and creative skills in a fun and engaging manner.
It is one out of the two projects the Love's Closet Foundation hold each year to help the society. The goal is to equip children with the tools needed to discover their unique selves and develop desired values to maximize their potential to become model leaders. For this year, Greatness In Me Leadership School for children is themed "My Values and I" and it's slated for the 17th of September 2022.
This year's GIM seeks to address the growing concern of falling standards of the society. Thus, all activities will be centred on values and personality development, to empower attendees- children, to become great leaders wherever they find themselves.
2022 Greatness In Me Leadership school for children is designed to meet the following
objectives:
Teach leadership skills such as effective communication, time management, planning
and goal setting.
Help children to discover who they are.
Encourage children to believe in themselves, their ideas, vision and abilities.
Encourage children to see themselves as leaders and to lead themselves effectively
Encourage children to take role modelling and mentorship seriously
Encourage children to develop self-awareness and self-esteem and develop creative
skills in children
Register your ward to participate in this year's Leadership School. For more details, call
0269785870/0246075991
Rate: GHS100
Venue: Yota Skills Hub
To donate
MTN mobile money:
024 607 5991
Bank Account Details
Bank: Guaranty Trust Bank (Ghana) LTD (GTB)
Account Name: Love's Closet Foundation
Account Number: 201110920140
#LCFCharityProject2022💙💜💙💜
#AutismAwareness💜💙💜💙
#ChildMentalHealth💙💜💙💜
#staysafe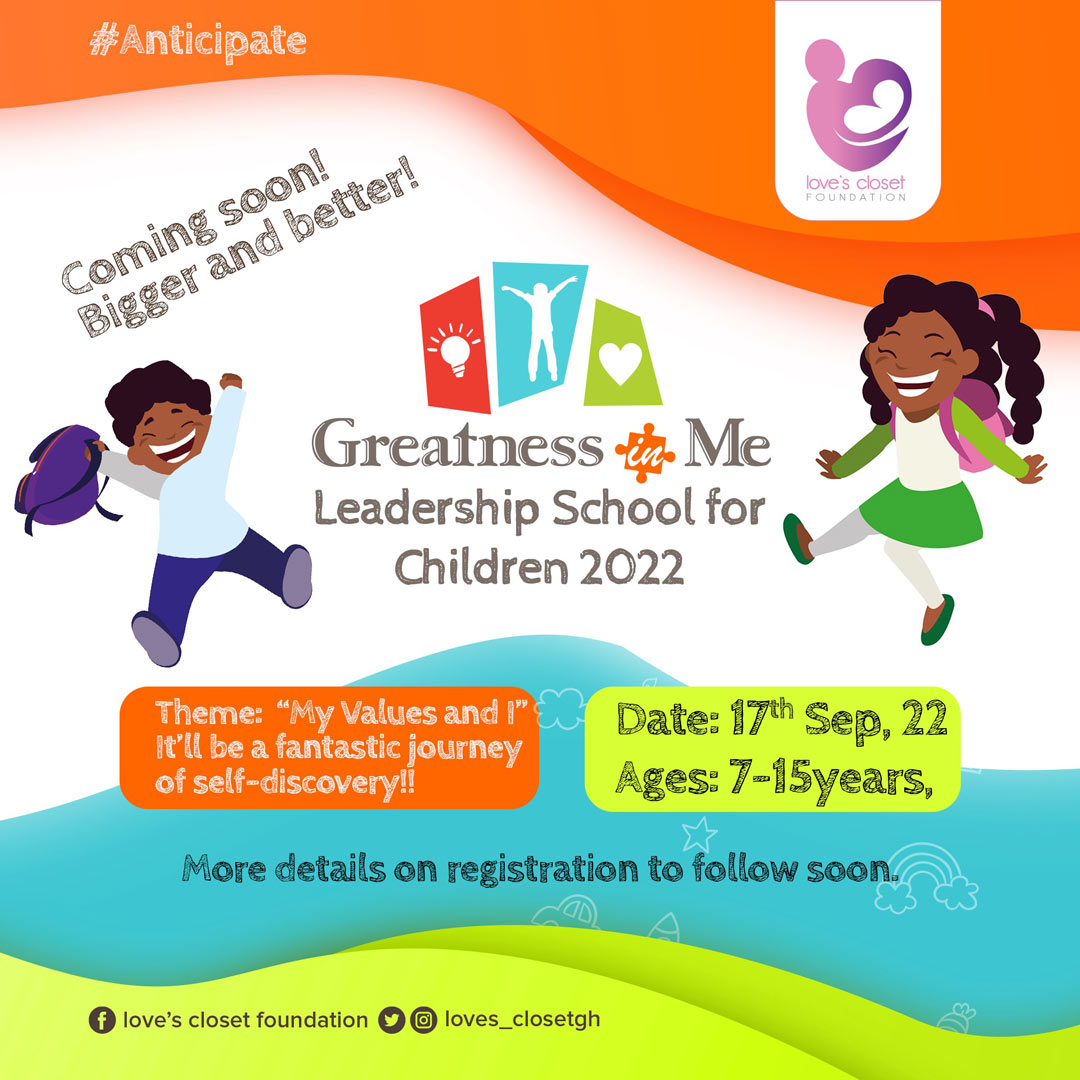 Join us
There are lots of ways you can get involved with the Love's Closet Foundation and help make a difference to the lives of children in Ghana. Your time is a great gift to donate to Love's Closet Foundation and there are lots of fun and interesting ways you can get involved. Find out more and start making a difference today!